Home

>

Mønsted Kalkgruber
Mønsted Kalkgruber
Mønsted Kalkgruber is the world's largest lime stone mine as well as an incredible place, where small lakes and purling brooks give the place a special atmosphere.
Above the largest lake a flood of light appears every hour and the story of the limestone and the mine reflects in the water.
At any time you can return to the entrance. 2 km of galleries are illuminated; 600 m are available for disabled persons. You can bring a torch - dogs on a leash are also welcome.
Mønsted Kalkgruber is the largest hibernation for bats in Northern Europe and the air humidity of 98% and the temperature of 8 degrees create perfect conditions for the maturing of cheese.
The underground mine train operates from 15th of May until 15th of August.
---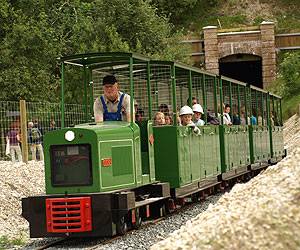 Mønsted Kalkgruber
Kalkværksvej 8
Mønsted
7850 Stoholm Jylland
Tlf: 86 646011

Show on map
Copyright © 2003-2020 Sol og Strand Feriehusudlejning A/S