Munkenes Teglovn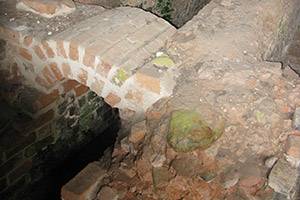 The black brother monks, Sortebrødremunke, in Vejle build the monastery in the Middle ages, and for that they needed bricks.
Around the year 1310 a Dominican monastery was founded in Klostergade. The monks were called black brothers because of their coats - black capes. The monastery was probably founded by the government officer of the king, Drost Laurids Joensen.
Historians believe that the monks have taken ownership of an existing church. The first building of the convent was made of wood, but in 1355 they planned to build a monastery church out of bricks. Perhaps the brick kiln, Munkenes teglovn, was built at that time. The same year the son of Laurids Joensen was allowed by the Pope to sell letters of indulgence in order to provide money for improvements of the buildings, belonging to the monastery.
Throughout many years new buildings were added to the monastery. A new church as a south wing, a tower, an east wing and probably a north and west wing as well. The monastery was abandoned in 1529, and in 1531 the king handed over the building to the town.
Free access to the brick kiln Munkenes Teglovn.
Munkenes Teglovn
Jagtvej 1
7100 Vejle
Tlf: 76813100

Show on map
Copyright © 2003-2020 Sol og Strand Feriehusudlejning A/S