Home

>

Vikingeborgen Trelleborg
Vikingeborgen Trelleborg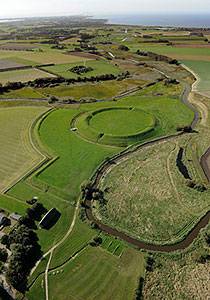 Experience the old Viking fortress of Harald Bluetooth from the year 980 near Slagelse
One of the places, where you can experience the Viking age at close range, is at the Viking fortress Trelleborg near Slagelse in the western part of Sealand. In a scenic area you will find one of the large circular fortresses of the Vikings.

Trelleborg was build around the year 980 by King Harald Bluetooth. Today you can see the remains of the large royal fortress very clearly in the terrain.

Come close to the Vikings 1,000 years ago and enjoy the scenic nature of the river valley Tude Ådal.

Models, archaeological finds and re-constructions provide you with a vivid impression of the story of Trelleborg, the inhabitants and the function of the fortress.

Experience the life of the Vikings at close range in the re-constructed village Slagløse. The museum offers an abundance of activities, shows and events during Easter and Whitsun, in the summer and in the Autumn holiday.

Try your strength against the workmanship and daily chores of the Vikings and experience the authentic atmosphere around the bonfire.
The admission of the Viking fortress is free.
Vikingeborgen Trelleborg
Trelleborg Allé 4
Hejninge
4200 Slagelse
Tlf: 58 54 95 06

Show on map
Copyright © 2003-2020 Sol og Strand Feriehusudlejning A/S